New mobile puck will allow smartphones to send texts via satellite
Low-cost device launched to solve mobile blackspots with SOS and two-way texting for Android and iPhone
Samuel Gibbs Consumer technology editor
Fri 24 Feb 2023

The Defy Satellite link gives any Android or iPhone an instant upgrade with the ability to send and receive text messages via satellite, solving the problem of mobile dead zones for emergencies and wilderness adventures.


Announced ahead of the Mobile World Congress in Barcelona and produced by the British phone manufacturer Bullitt under the Motorola brand, the Satellite link connects to a normal smartphone via Bluetooth and uses an app to send not only SOS messages but general two-way chat via texts.
The lightweight, credit card-sized puck will ship from about April, costing £99 on its own or £149 when bundled with 30 messages a month and an SOS assistance service from FocusPoint for the first year. It connects to geostationary satellites via a new MediaTek chip to send SMS to regular phones with replies sent using the cross-platform Bullitt Satellite Messenger app. A button on the side can also send an SOS alert with location without needing to connect to a smartphone.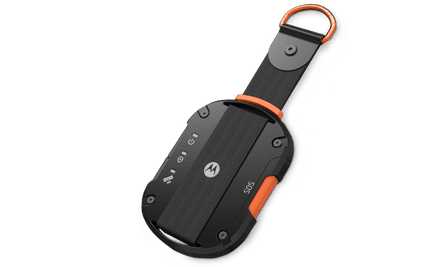 The Satellite link is water- and dust-resistant, lasting several days for each charge. Photograph: Motorola/Bullitt


Satellite phones have been available since the 1990s, typically at high cost for purchase and use. Now advancements in radio technologies have allowed integration of some basic satellite functions into traditional smartphones. Apple's iPhone 14 can send SOS messages via satellite, while the chipmaker Qualcomm recently announced a similar service would be available for high-end Android phones in the second half of 2023.

But both options require buying new phones at high cost and cannot be shared within a family – a market Bullitt hopes to capture with its cutting-edge device that brings down the cost of satellite services, making them more widely available.

"The Motorola Defy Satellite link, combined with the Bullitt Satellite Messenger service, brings accessible and affordable satellite messaging to everybody's current smartphone," said Bullitt co-founder Dave Floyd. "This is the definition of democratising satellite communications."