Golly! He forgot to mention Hunter Biden's laptop.
Tucker Carlson peddles conspiracy theories on Twitter debut from barn
Ex-Fox News host backs Russia and insults Ukraine's Zelenskiy in 10-minute monologue greeted with widespread derision
Martin Pengelly
7 Jun 2023 10.32 EDT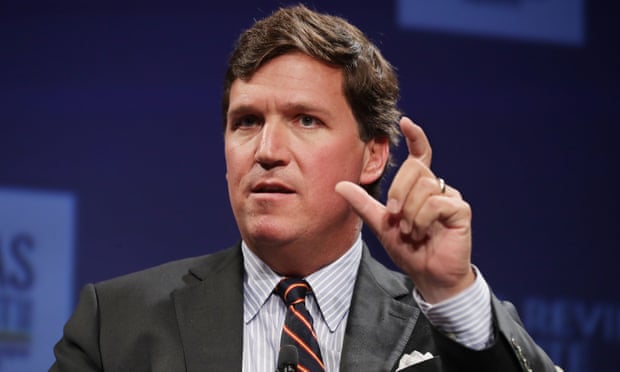 Tucker Carlson's debut on Twitter was greeted with widespread derision, as the former Fox News host backed Russia in its war with Ukraine, abused the Ukrainian president, Volodymyr Zelenskiy, invoked conspiracy theories about 9/11 and Jeffrey Epstein and mused on the existence or otherwise of extraterrestrial life.

"Tucker Carlson's lies cost Fox $800m," said Anne Applebaum, a historian of authoritarianism, referring to the $787.5m settlement the network signed with Dominion Voting Systems over its broadcast of Donald Trump's election lies, shortly before Carlson was fired. "Now he is still lying, and Twitter will eventually pay the price too."

At the end of Carlson's first show, a 10-minute monologue in a barn, with a wide shot showing he was operating his own teleprompter, the host said he would bypass the mainstream media to tell viewers the truth, as Russians under communism once found ways to hear broadcasts from other countries. He said: "We've come to Twitter which we hope will be the shortwave radio under the blankets. We're told there are no gatekeepers here. If that turns out to be false, we'll leave … We'll be back with much more very soon."

Elon Musk, the Twitter owner, retweeted the video and said it would be "great to have shows from all parts of the political spectrum on this platform".

By Wednesday, Twitter said Carlson's video had been viewed more than 65m times.

The first taste of what that audience can expect included claims that Ukraine blew up the Kakhovka dam, not Russia, and lewd insinuations about the Republican senator Lindsey Graham. Carlson said Graham was "attracted" to the "rat-like" Zelenskiy and "aroused" by "the aroma of death". Carlson also called Zelenskiy "sweaty … a comedian turned oligarch, a persecutor of Christians".

Carlson also said: "What exactly happened on 9/11? Well, it's still classified. How did Jeffrey Epstein make all that money. How did he die? How about JFK and so endlessly on."

He also raised the case of a retired air force officer who claims the US has extensive evidence of alien life. "It was clear he was telling the truth," Carlson said, without elaborating.

Matthew Gertz, senior fellow at the progressive watchdog Media Matters for America, called Carlson's video "bleak" and added: "It's jarring how his shtick just does not work without the Fox bells-and-whistles. "He was maybe the most powerful man in [rightwing] media; now he's just another streamer with half-baked opinions peddling conspiracy theories. He's Alex Jones in jacket and tie."

Jones, a conspiracy theorist influential on the far right, was ordered to pay $1.5bn for saying the Sandy Hook elementary school shooting was faked.

Gertz added: "I notice [Carlson] presented other media as dishonest and foolish for not realizing that Ukraine blew up [the] Nord Stream [pipeline] but he previously said the US did it, and also the new evidence he cites was broken by New York Times."

On the right, Carlson found eager viewers. The anonymous Twitter account Catturd (known to Rolling Stone as "the ****posting king of Maga Twitter"), wrote: "Good morning to everyone especially Tucker Carlson for breaking Twitter with now over 50 million views and talking truth to power. "This is the future of media ... the mainstream Democrat, lying propaganda media is done."

But condemnation and ridicule were widespread.

Reed Galen, a former Republican operative turned anti-Trump campaigner, tweeted a picture of Carlson operating his own teleprompter and a message pointing to the unknown payoff Carlson took from Fox News. "You'd think with all those Rupert [Murdoch] bucks he could hire a producer," Galen said.
https://www.theguardian.com/media/20...e_iOSApp_Other