'Trump Bucks' websites taken down after buyers fall for fake currency
Victims of con invested thousands of dollars in fake bills plastered with Trump's face they believed would make them rich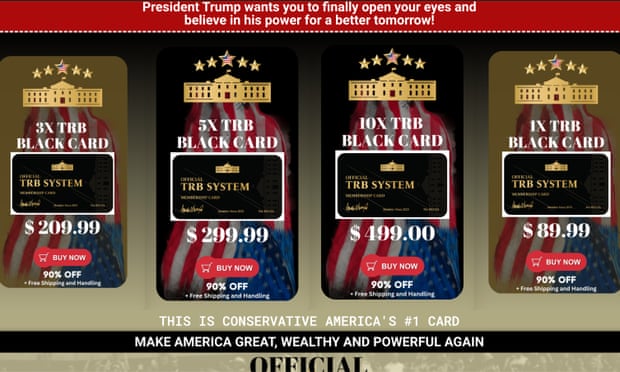 Erum Salam
1 Jun 2023

Websites launched by companies selling "Trump Bucks" to some of the former president's most ardent supporters have been taken down. NBC reported the closures, after its investigation found several Colorado-based companies were behind the scam that promised investors they would get rich if the disgraced former president is re-elected in 2024.

Purchased in the form of coins, checks and cards, as part of a "Trump Rebate Banking System", Trump Bucks were sold as a potentially highly valuable tender that would be made legal when Trump returned to power. Advertisements on social media were sophisticated, using AI-generated narration and celebrity endorsements eventually revealed to be fake.



Image is probably fake, but then so are the "real" Trump bucks.

Victims of the con invested thousands of dollars in the fake currency plastered with Trump's face. One man told NBC he invested $2,200 in Trump Bucks and other merchandise, only to find the Trump Bucks were useless when he tried to cash them in at a bank. A Bank of America spokesperson told NBC it was difficult to assess how many people had tried to cash in Trump Bucks.

The online retailer ClickBank said it had disabled websites selling the products. "Any consumer purchasing these items through ClickBank received a pre-purchase disclosure that they are for commemorative value only and are not legal tender," a spokesperson said. "Still, ClickBank is concerned to hear that the products were being deceptive marketed elsewhere so we chose to discontinue sales even with our disclaimer."

Following a Freedom of Information Act request from NBC, the Federal Trade Commission confirmed at least one fraud complaint against Patriots Dynasty, one of the companies behind the scheme, alongside Patriots Future and USA Patriots. The Better Business Bureau, a non-profit which informs US consumers, gave the companies an F or failing rating.

No criminal complaints had been filed, NBC said.

NBC quoted John Amann, the 77-year-old who spent more than $2,000 on Trump Bucks and other merchandise, as saying: "Now I'm questioning whether [Trump] is aware of this."

The Trump re-election campaign did not comment.
https://www.theguardian.com/us-news/...e_iOSApp_Other