Sat 21 Jul 2012
So the rendezvous point for a cruise in company to Barkley Sound on the west coast of Vancouver Island featuring, (in alphabetical order) Bandwagon (a Hvalsoe 16), Big Food (a Matinicus Peapod), Hornpipe (a Kurylko Alaska) and Rowan (an Oughtred Sooty Tern, more or less), was the Toquart Bay campground, at the end of 10 miles of gravel road. It's sole redeeming feature is that it provides a launch beach for kayaks wanting to paddle the Broken Group, and the closest launch ramp for sail and oar boats wanting to get to Barkley Sound. Otherwise it is the main haunt of $40K ¾ ton pickups pulling $50K trailers or carrying $25K campers, and also hauling oversized outboard motors attached to big fibreglass boats with names like "Fish'n Machine" or "Alabama Slammer" (to quote just 2 names overheard on the VHF).
We all arrived late afternoon Saturday to find that the dead hand of liability insurance has reached even this backwater. We were told that non-powered boats are not allowed to be launched at the marina – power only. When asked why, we found out that some accident 5 years ago where a kayaker paddled/was sucked into the prop of a major power boat at a marina launch ramp and lost his legs, now means that kayaks and canoes are banned from marina launch ramps in BC, perhaps all of Canada. They weren't quite sure where to pigeon-hole us, as sail and oar, being neither fish nor fowl from a liability perspective, but in the end allowed us to stay and launch our boats.
It was too late to launch and get over to the Broken Group that evening, but salmon steaks for supper compensated for not getting out sailing immediately. Weather was looking not ideal, with showers and or rain predicted, but it held off until the middle of the night.
Sun, 22 Jul 2012
In the morning, James was the first to get launched and underway in Rowan, intending to do some fishing outside the closed area of the Broken Group (part of Pacific Rim National Park Reserve). Rendezvous was nominally lunchtime at Hand Island, the first possible campground and a good beach to stop at. Eric, Tim and I got going somewhat later, in the rain. Once underway, we found about 5-10 kts of headwind, which carried us to the channel between the Stopper Islands, where the wind died, requiring the oars to carry us through. The breeze picked up again after that and after several tacks to clear Lyall Pt, we were able to turn the corner for a nice reach over to Hand Island,
arriving there about 1230.
Bandwagon arriving Hand Island
Big Food arriving Hand Island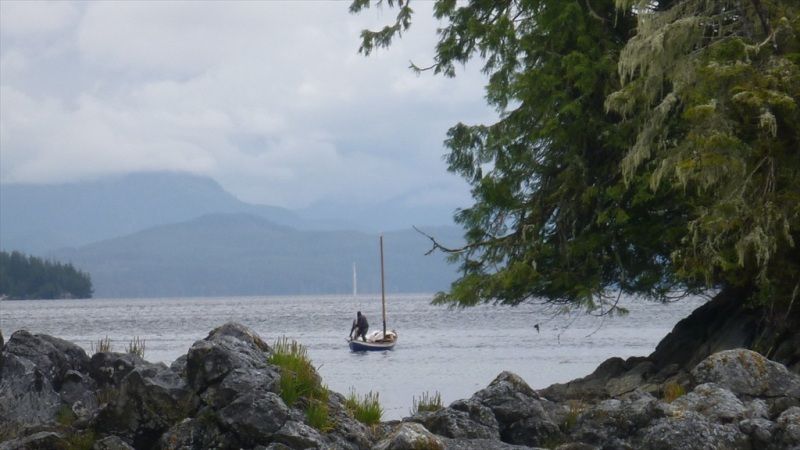 On the beach at Hand Island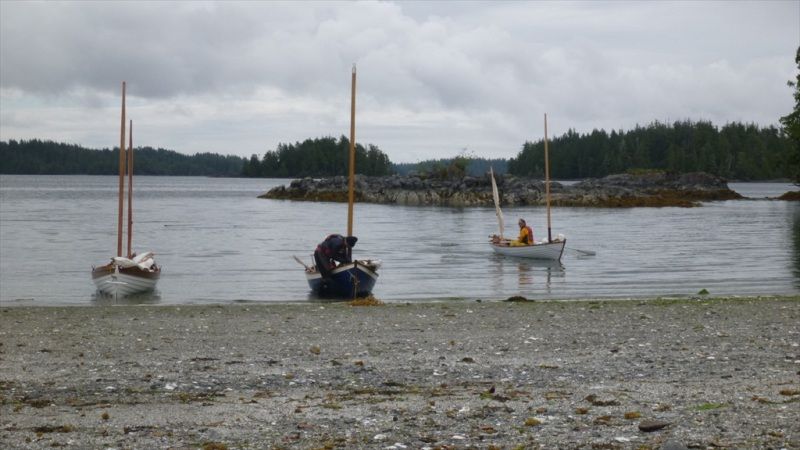 James arrived about an hour later to clean a rockfish he had caught. After lunch we sailed over to look at the shallow lagoon between Jarvis and Jacques Island, home of moon snails, bat stars, sea stars, eel grass and various other bottom dwellers. The wind that greeted us for the sail over to the campsite on Gibralter Island was fluky and gusty but it got us there.
Sailing to the lagoon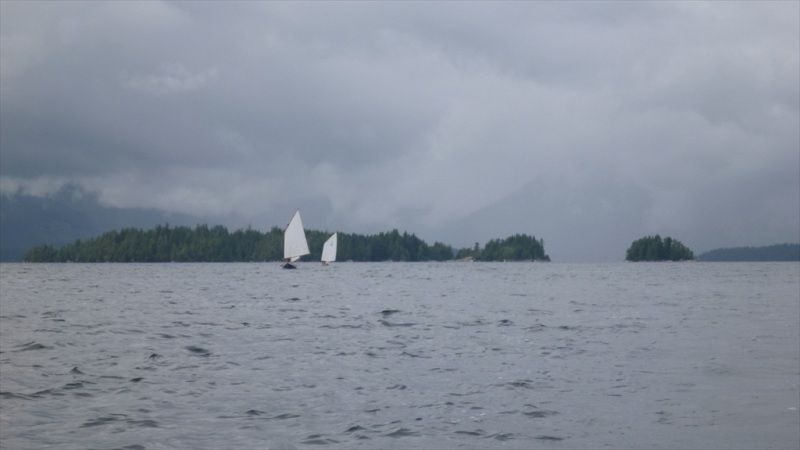 The wind was sweeping across the beach at Gibralter in gusts, making me wonder about it as an anchorage, but the state of the overnight tides were such that we could leave the boats to dry out on the beach overnight. Except for James, who anchored out anyway and slept on Rowan. James' crab pot yielded enough crab for appetizers for supper and so ended the first day.
Holding down the beach at Gibralter Island
Rowan on the clothesline mooring