After a lot of thought, and a few different abandoned directions (and several sets of plans), today I began building Tom Dunderdale's Campion Apple 16 (
http://www.campionboats.co.uk/details.html
). Here's a photo from the designer's website: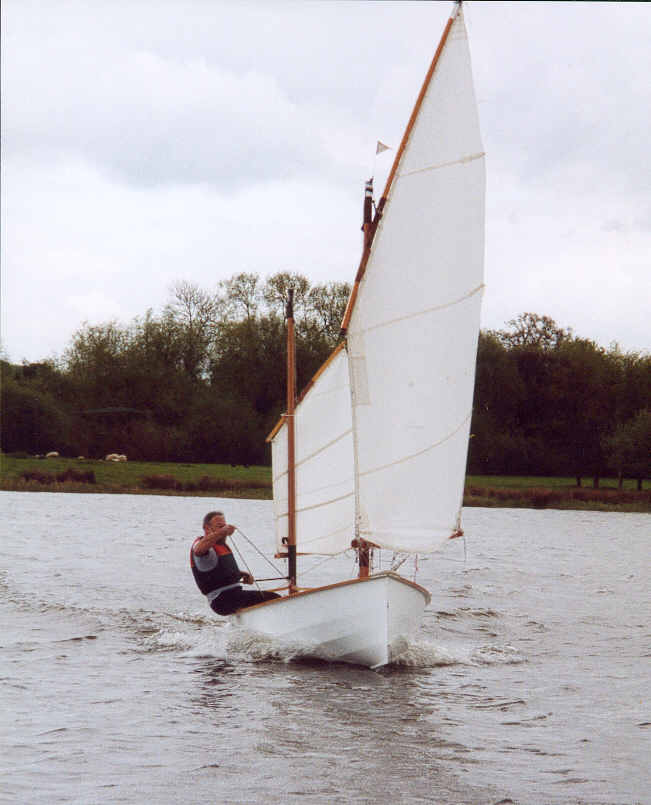 The closest runner up was Michael Storer's Goat Island Skiff, and in some ways, they have a bit of similarity: both _can_ be made out of 6 sheets of plywood (though with the GIS that gets you a sealed rear tank, rather than just a rear thwart -- probably many Apples end up with some sealed tanks, but then it'll be more plywood), both are a little under 16' long, roughly 5' wide, narrow bow, etc. Weighing on the side of the GIS was the size of the building community, quality of plans, etc. What ultimately sold me on the Apple though was the more developed (and wider) hull, more options thought out for seating, etc.
The only build log I found was a blog by Matt Bowser (
http://www.fernhollow.net/
), who also wrote an article about the boat in Small Boats Monthly (
https://smallboatsmonthly.com/article/apple-16/
). Both were were helpful, but he was building the Swedish Apple variant (as far as I could tell from the blog, both photos and plywood requirements), and a completely custom (and much heavier than I intend!) interior. Finally, there are a bunch of building photos on the official website (
http://www.campionboats.co.uk/apple-construction.html
), along with helpful text.
But, since I didn't find any logs of building the "original" (4 strake) Apple, I thought I would chronicle it here. Part of the reason I wanted to build the original one is that I think it's quite amazing how well the strakes fit into the plywood (the Swedish variant, which has 5 strakes per side rather than 4, requires 6 sheets of plywood for the strakes, rather than 4 -- though with some extra).
The plans are: interesting! My only comparison are a set of plans by Iain Oughtred and a few sets by Michael Storer, but I found the Apple plans much harder to understand at first. In particular, while there was an "original" boat, many alternatives have been made over the 25+ years since he first came up with the design, and they are all presented in different forms across the various drawings (sometimes overlapping!) -- and there are also alternatives for building the boat tougher or building it lighter. In some ways, this is an advantage -- as if you want to make some modification, there is a decent chance that it's been thought through and there might ever be a note on the drawings of what to do, but on the other hand, just figuring it all out is quite hard, at first (at least as compared to those other two designers, my only frame of reference).
Today was mostly just preparation, but here are some photos!
Boat shop almost ready (made some room to sit at the table after this photo). Assistant snoozing!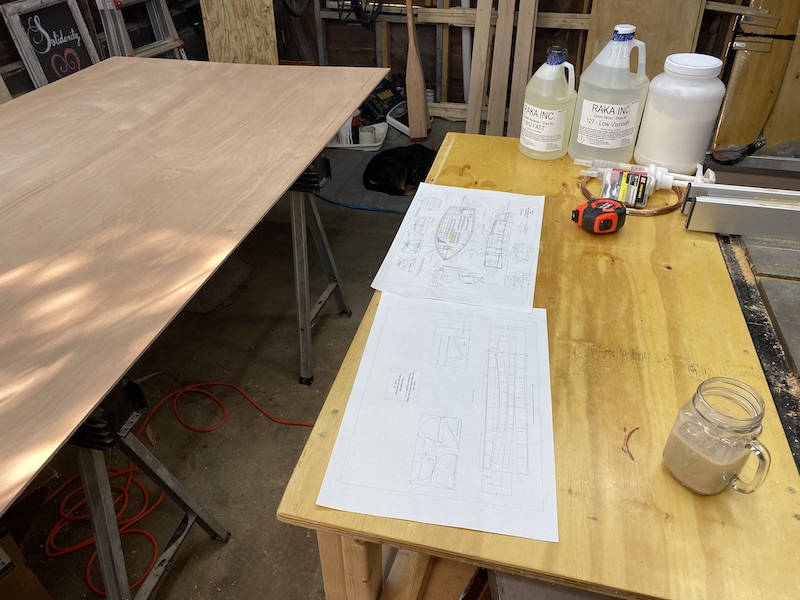 A cardboard 1:8 model of the hull, made to better understand the strake layout (stem was done sloppily).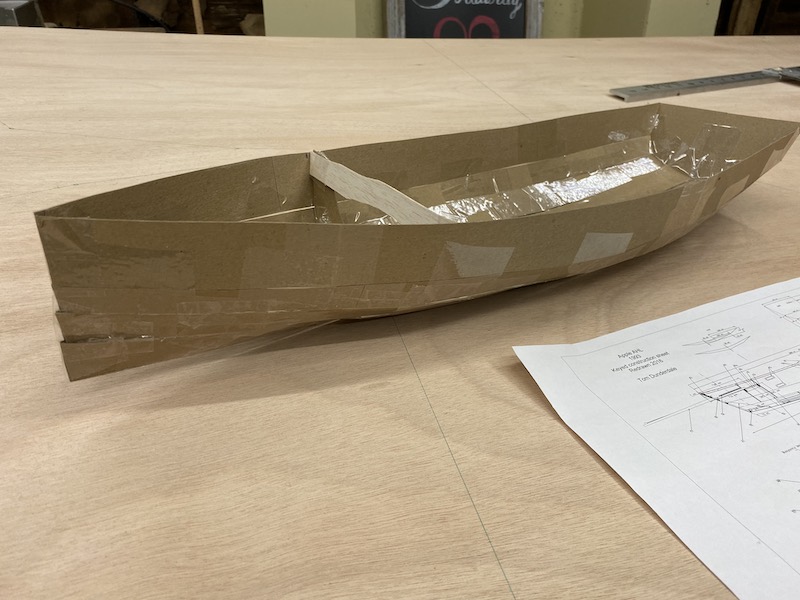 Rather than scarfing, Tom suggests using 3" fiberglass tape, top and bottom (an staggered overlapped double layer on top), to make up the 4'x16' panels the strakes are cut out of. I've heard this called a "Payson" joint, though Tom attributes it in the US to Carnell, and in the UK to the Phantom racing dinghy community (going back to the 70s). The upside of doing rather than scarfing this is that it preserves the length, and that, combined with the fact that the 6mm Okoume plywood I have is 2500mm x 1220mm (rather than 2440mm), means I won't have to add any additional length for strake 0 (which is slightly longer than 16'). And apparently the joint is strong enough.
Before: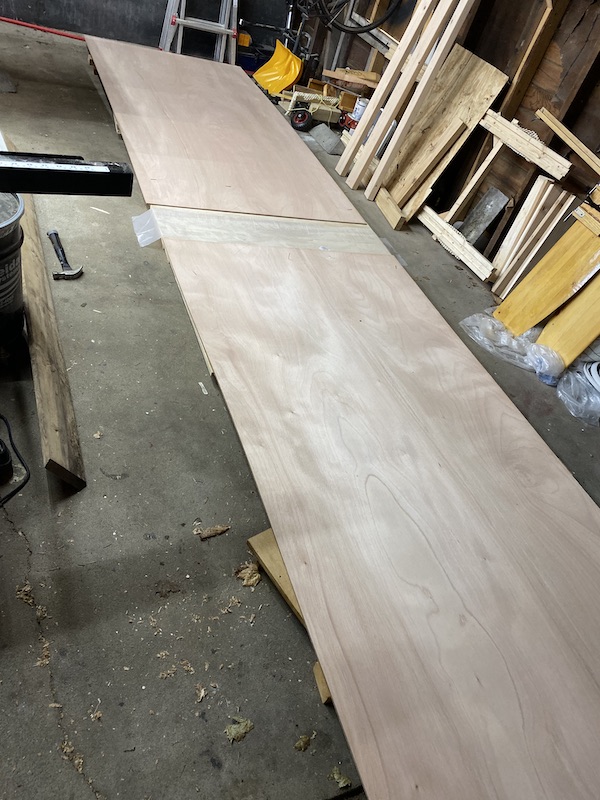 And after (during, I was in rather a hurry and didn't stop to take photos. I got fast epoxy because it's cold and getting colder, and my "shop" is uninsulated, but it's not actually all that cold yet and I _really_ didn't want to mess this up!):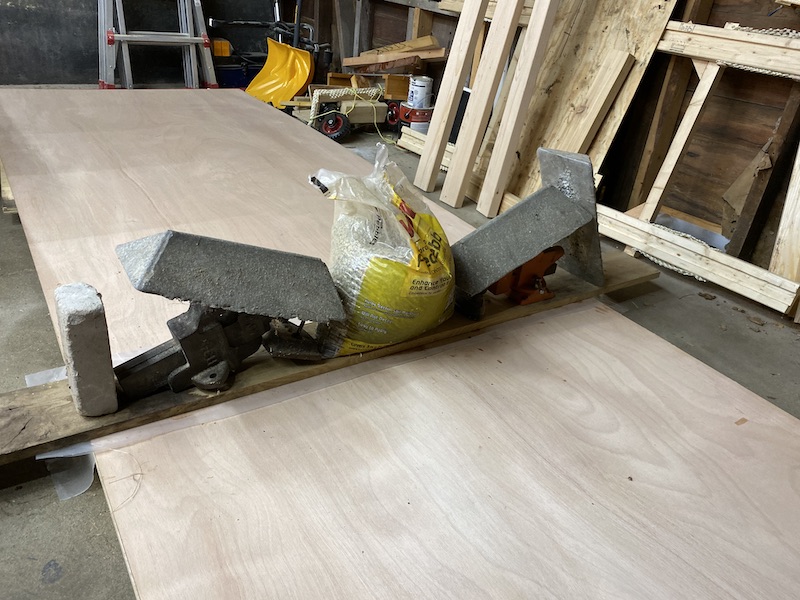 Finally, though this is rather of a boring post (more interesting things to come!), I wanted to point out how tightly the designs pack into the plywood sheets: not only the strakes (which I know from the model!), but here is the transom (top) and one of the frames (bottom). Both go nearly to the end of the sheet (shy about 1mm), and they come within 1cm of each other.